This is a posting centered around our Brompton bikes…
Our family obviously have a thing about bicycles, but we mostly just use them as means of transport.
Christine bought our first Brompton, a M3R Racing Green, back in 2008. It was intended to cut her 1h15 commute down by 10-15 minutes and save her some walking, but she found that she could get through faster by skipping bus rides and ride the Brompton instead. This further reduced her commuting time and provided physical exercise at the same time.
A few years later Christine found an alternative for her commute and the Brompton was left in the shed. Around 2013 I began using the Brompton as a backup when my own recumbent had a failure. It then caught on. The satisfaction of keeping up with and overtaking fellow commuters – especially race bikes – was much better on the Brompton than on the recumbent.
In early 2014 I bought a new M6L (+8%) Apple Green for my daily commute and later on in the season I took it along for weekend rides from the local fitness center.It raised a few eyebrows, but since I could keep up on the road it was fine. Christine joined in on the Saturday rides as well later on.
In September 2014 we celebrated our anniversary with a one week gourmet B&B trip to Tuscany. For that trip we took our Bromptons along on the flight to Florence and used them to ride downtown from the airport and for sightseeing. Riding to town along the river is a highly recommended way to enter Florence. Later on we used them for our sightseeing day trips between beautiful mountaintop villages. This also gave a healthy appetite and served as an excuse to indulge in fabulous Italian food and wine every evening.
Back home in Denmark we noticed a poster in the fitness center about a cycling tour to the Alps. The catch for us was a mention of good food and wine in between rides in the mountains. It was a 6-day tour taking place in September 2015. More Italian food and wine sounded good so we signed up for the trip…
This tour was called RATA which stands for "Race Across The Alps". It is actually a 1-day extreme sports event starting in the Austrian village of Nauders. The 535 km route is epic in every sense, crossing into Italy and Switzerland to scale a host of truly iconic mountains including the Stelvio, Gavia, Mortirolo, Aprica, Bernina, Albula, Flüela, Fuorn and Umbrail with a combined climb of nearly 14,000 m.
These figures didn't really mean much to us at the time, but we realised that we would have 6 days instead of just one and that there would be good food and wine, so how hard could it be!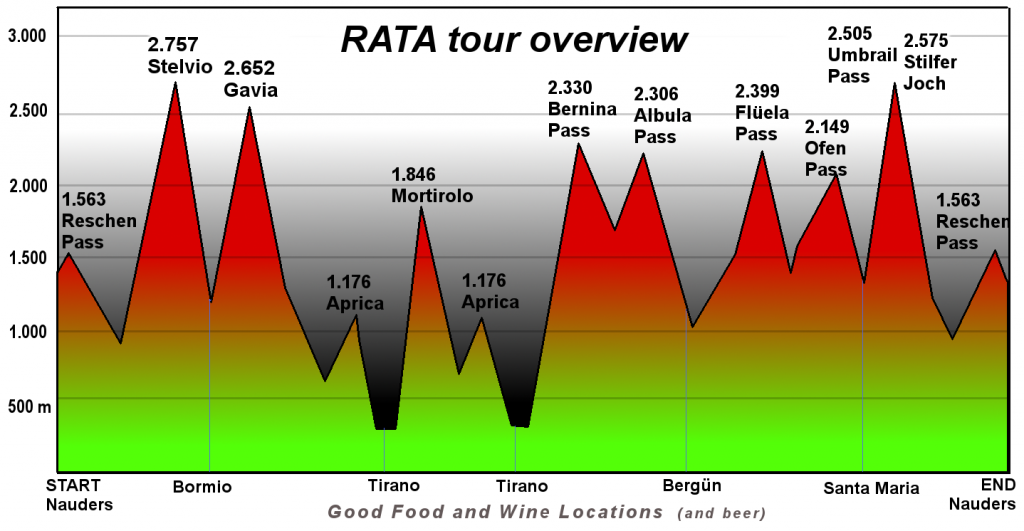 Our chief guide for the tour Claus Robl who had completed the real RATA in 2013 spend some time during the winter training sessions describing the challenges ahead and it then slowly dawned on us that this "vacation" might require more than our usual daily commuting as preparation. Initially we had not discussed how to do the trip but, at some point Christine was asked whether we were going to ride the Bromptons (ha ha) – and she said yes…
That meant that our stakes were now upped a bit since we not just had to complete the ride, but also to prove that that a Brompton would be a perfectly good choice for doing so! We were then more or less on a quest for our bikes!
So in order to be well prepared we build a pair of new Competition Grade Bromptons and scheduled some increasingly challenging rides over the 2015 cycling season. Unfortunately, right before the first ride in the season we learned that the Brompton ordering system had lost our new bikes! Outrage! Luckily, Yoann and André from the local Brompton importer did some wizardry and managed to configure two bikes according to our specs! Great service! Christine got a Red/Titanium S6E (+8%) and Hans got an Orange S6E (+8%).
Riding at high speed would not be a goal for us in the mountains, but since the Danish landscape is flat as a football field we just had to trade hill climbs for high speed during our practice. We had signed up for a couple of medium length races of around 110 – 130 km and we managed average speeds close to 30 kmh which we found to be reasonable when comparing with other participants.
Next up we had to face the challenge of riding hard, then get up and do the same next morning for several days. For this we had signed up for the "Laholm 6-day exercise ride" in Sweden. This turned out to be probably the best part of our preparation. The event consist of 6 days; 3 with rides in a moderately hilly terrain, approximately 130 km per day followed by one day for recovery. After the recovery there would be another three days of hilly routes with up to 1200 m height gain per ride.
We found the whole event to be extremely well organised by the local cycling club in Laholm and the routes were through beautiful landscapes with views of forests, lakes and farmland. There were sufficient participants to ensure that everyone could ride with a group almost no matter what speed they did. We were of course the only ones riding Bromptons but we felt welcome and are very likely to be back there next time.
We also participated in the Danish Brompton World Championship (BWC), and as it happened, Christine won in the women's category. Her price was a ticket to participate in the BWC in London on August 1st. It was a really great experience and the race itself was intense – not least due to the number of participants. Christine ended up 6th out of 110 women which wasn't really too bad. We also used the opportunity and enjoyed a one week vacation in London with our sons after the race.
In the Alps
On August 28 in the morning we set out from Nauders, Austria with a group of 20 cyclists. Eighteen race bikes (mostly carbon) and two Bromptons
The main challenge on the first day was the Stelvio pass. Getting to the top is a 27 km ride for a gain of 1850 m through 48 hairpins.
The fine weather with temperatures around 26 C had also attracted lots of motorcycles and convertibles, so the road was packed.
Just before setting out from Nauders we had changed the gearing on Christine's bike from +8% to the Brompton standard gearing (50 tooth chainring). This turned out to be a good choice. For my part, I found out the hard way that a +8% ratio was not the right choice for a just marginally fit person when riding up real mountains. I made it half ways up and then had to struggle with cramps in both legs for the rest of the climb.
After a break and some food at the top of the pass we were ready to face the challenge of the long ride downhill. This had actually been our greatest worry: Would we be able to safely control the bikes at high speed on bad roads and without overheating the rims? Our worries turned out to be unfounded and the Bromptons handled the ride without problems.
After a fine dinner and a good night's sleep in the Italian town of Bormio we set out for 102 km across the Gavia and Aprica passes and for another 2190 m gain. This time both bikes had the standard Brompton gearing and my cramp were mostly gone.
Four days later on September 4 in the afternoon we arrive back in Nauders, Austria after covering 534 km and a combined climb of nearly 14000 m. Our aim had been focused on completing the ride and we had done that without being an embarrassment to neither our-self nor our bikes.
We find that our RATA-tour goes a long way to demonstrate that your Brompton is capable of going where ever you chose to go. Unless you ride off-road or through deep snow you really just need one bike.
Grand Prix Båstad
It turned out that the toughest part of our 2015 season was yet to come. Early in the year when we were looking for cycling events in preparation for the RATA-tour, we stumbled upon "Grand Prix Baastad" taking place Sept. 20. 2015. This would obviously be taking place after the RATA-event, but we had signed up for it anyway thinking that we would be fit for such a stroll after the Alps…
There was one quite important thing that set it apart from our RATA experience: "Grand Prix Båstad" was organised as a race as opposed to the tour we had done in the Alps.
The Gran Prix is a yearly event that is all about a 124 km ride with a total height gain of 2500 m. It route takes you 8 times around a 15.5 km loop with two rather steep climbs – one of them up to 19% – and the time limit to finish is 6 hours…
Long story short: Grand Prix Båstad was really, really hard.
Contrary to a lot of other participants we both completed within the time limit and we have now concluded our cycling season. Next year will be different but it will surely involve Bromptons. The best bike for most things on two wheels!